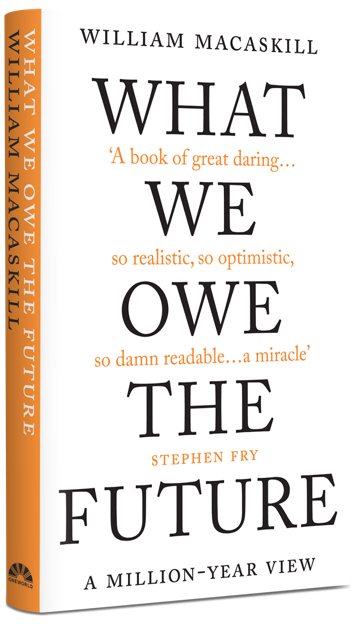 A guide for making the future go better. Humanity's written history spans only five thousand years. Our yet-unwritten future could last for millions more – or it could end tomorrow. Staggering numbers of people will lead lives of flourishing or misery or never live at all, depending on what we do today.
A profoundly new perspective on human civilization and our place in it.
– LYDIA CACHO
This is a book of great daring, clarity, insight and imagination. To be simultaneously so realistic and so optimistic, and always so damned readable … that is a miracle for which MacAskill should be greatly applauded.
– STEPHEN FRY
This book will change your sense of how grand the sweep of human history could be, where you fit into it, and how much you could do to change it for the better.
– EZRA KLEIN
All proceeds from What We Owe The Future are donated to the Longtermism Fund, which directs funding to highly effective organizations working to safeguard the long-term future of humanity.